Successful ESG Management
Thinkdot enables companies to improve sustainability and drive growth.
It is challenging for companies to define a comprehensive, effective management for environmental, social and governmental concerns (ESG). A sustainable company is focusing on ESG achievements, public perception, compliance requirements and costs.
Thinkdot is a cloud service platform that guides companies through the sustainability strategy and reporting process. Our focus is to create value, for the environment, the society and for the company.
Material Topics
Recommendation of company specific ESG topics and comparison with peers.
Stakeholder Engagement
Surveys for the the leadership team, employees, customers, suppliers and other stakeholders.
Comprehensive Analytics
Interactive analytics and simulations ensure a value focused approach.
Compliance
Thinkdot supports all major ESG reporting standards. It allows to use multiple standards simultaneously and takes care of all the formalities.
Strategy
Include stakeholders to define strategic fields of action to improve sustainability.
Stakeholder Survey
The first step towards a sustainable business is to define the relevant strategic business objectives. To ensure that a company establishes and maintains an impactful sustainability management, it is crucial to include different stakeholders like employees, customers or suppliers early in the strategic process.
Defining the most urgent fields of action from different perspectives ensures a targeted approach to maximize the impact of a companies' sustainability engagement. Thinkdot provides:
a comprehensive catalog with specific actionable sustainability items to choose from
professional, user-friendly online survey in the look and feel of the company
dashboard with survey results and materiality analysis
We ensure data confidentiality and the secure hosting of the survey data.
If you wish to work out details with the management or with specific stakeholders, we will gladly conduct workshops with you.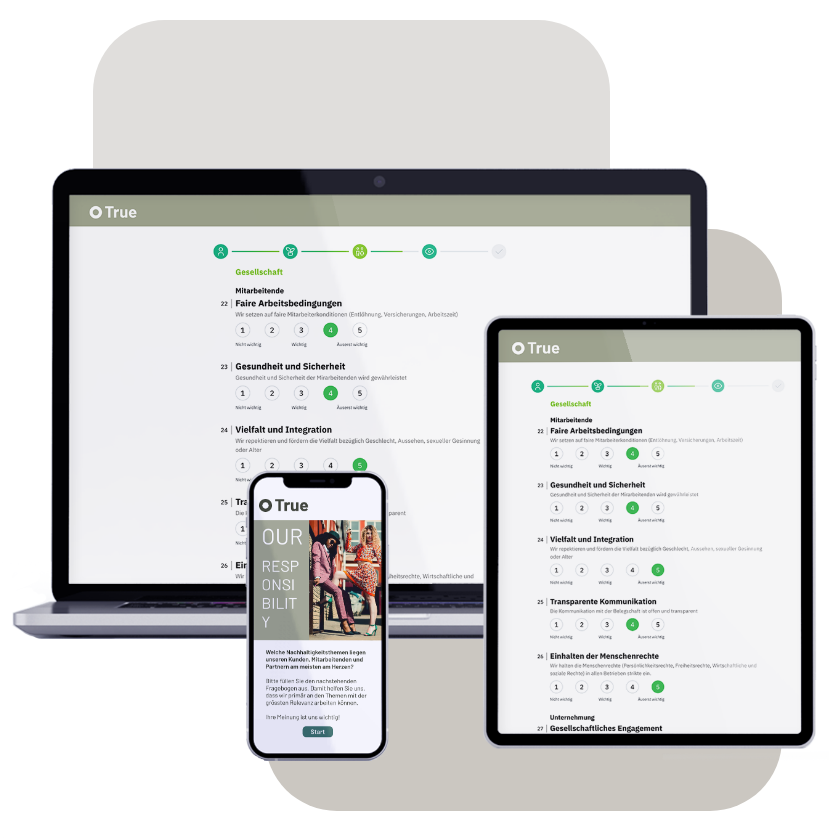 Dashboard
The results of the survey and of the available sustainability data can be monitored in the dashboard. It provides data exploration to analyze the feedback of the stakeholders.
Smart analytics make peculiarities in the results transparent. The materiality matrix can be exported in various formats.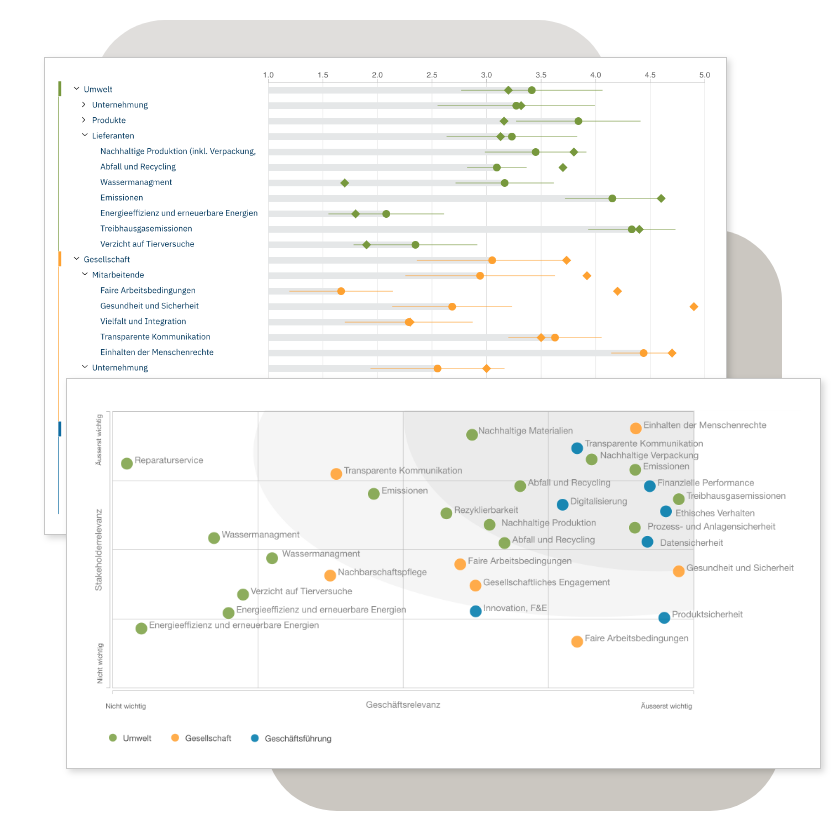 Sustainability Reporting
Communicate sustainability achievements effectively.
Thinkdot Studio
The web-based platform drives the entire reporting process. It allows internal and external stakeholders to collaborate. Different users contribute data, text and images to the report.
All data is stored in the centralized data repository within the knowledge engine. Figures within the text and data for the charts are always sourced from the data repository to ensure consistency, quality and alignment with the chosen standards.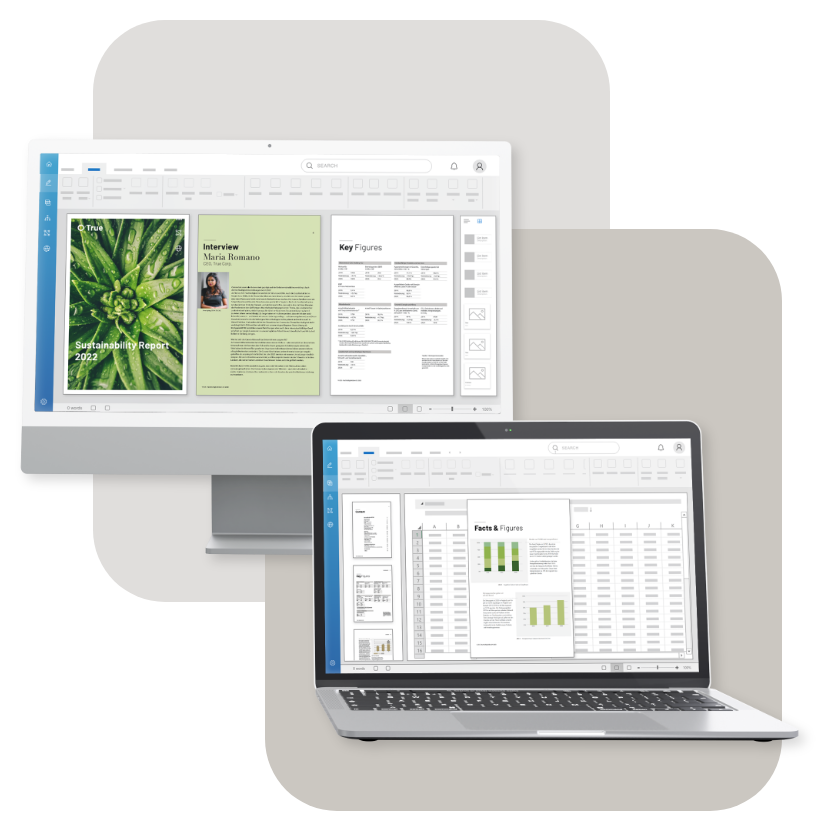 Sustainability Reports
Thinkdot delivers reliable high-quality sustainability reports. The reports or excerpts thereof can be produced in different formats to communicate on various channels. The state-of-the-art information ensures that institutions reach different stakeholder-groups effectively and that their sustainability engagement gets attention.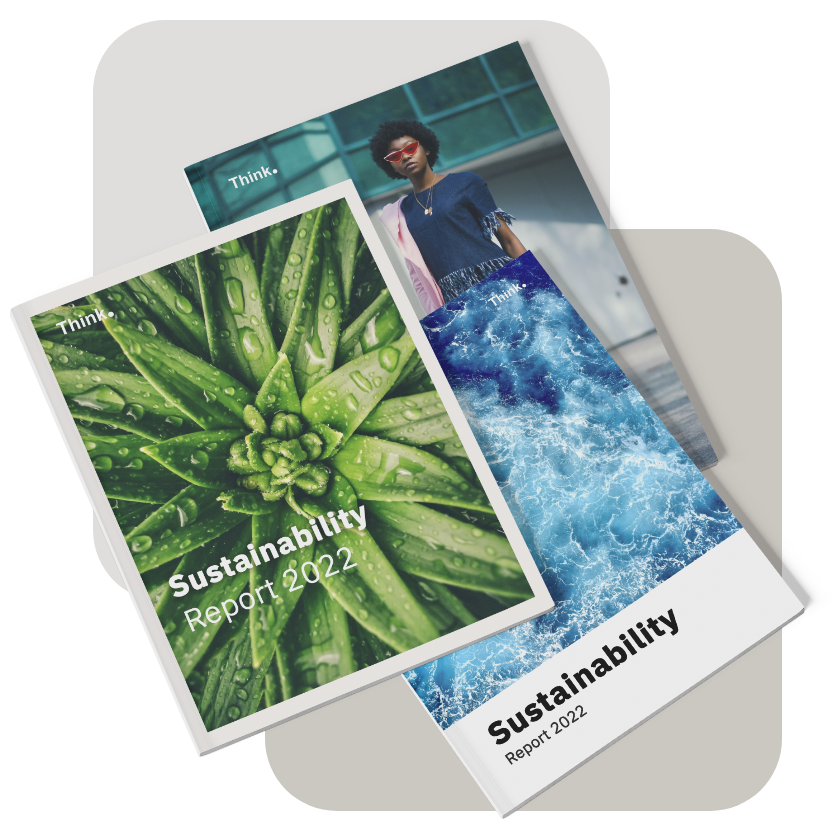 Supported Reporting Standards
Thinkdot supports all major global sustainability standards. The Thinkdot processes and outputs are aligned with the formal requirements of the specific standards.